Quality
The primary goal of ALT is to provide a standard of manufacturing services which surpass our customers' expectations. Our quality management program utilizes live tracking, production management software (M1), in combination with ISO manufacturing standards. ALT has been ISO certified since 2006.
Certified to ISO 9001:2015
Fine Element studies to determine best practice.
Production Part Approval Process. (PPAP)
Quality at source for each process.
Continuous Improvement Program using CARs and PARs.
Monitoring of Key Performance Indicators.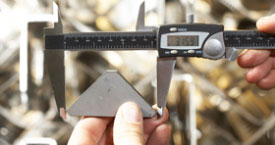 The quality department provides training to other departments to ensure that quality standards are being met throughout the organization.
A copy of our quality manual can be supplied upon request. A copy of our ISO certificate can be downloaded from this web site. ISO 9001:2015