Sawing
At ALT, we offer sawing services in addition to our other fabrication services.
Our objective at Applied Laser Technologies is to provide you with a fast and quality service to help you meet your production needs and get your products out to your customers!
We have saws that are capable of cutting a variety of parts.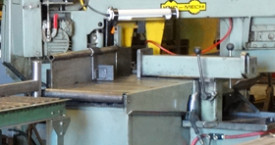 We have the following sawing equipment:
Hyd-Mech S-20 Horizontal Band Saw
Cut Cap: rectangular 13″ x 18″ wide, round 12″ @ 45 deg

Hyd-Mech H-14A Automatic Horizontal Band Saw
Cut Cap: 14″ x 14″ / 356mm x 356mm

Scotchman VS-350LT/PK/PD Semi-Automatic Cold Saw
Cut Cap @ 90 deg: round 4-7/8″ / square 4-1/2″ x 4-1/2″
Cut Cap @ 45 deg: round 4-3/8″ / square 4″ x 4″